Simple Workbench
Simple Workbench
This is a simple maker workbench for a maker to create spectacular items
Details
Type:
crafting station
AKA:
Simple Maker Table
Crafting Skill Tier:
1
Level:
1
Value:
100
Used in the Maker craft.

Simple Workbench is one of the Workbenches available in the Stash RPG. It is a crafting skill tier 1 station used by a Maker for crafting and can be purchased from Zieri in Askagard or crafted by a Maker. It must be installed outdoors the BOO area, and if a Starter Lathe is placed in BOO stash, you can start crafting equipment, implements, cloth and decorations of tier 1 at a rate of 1 craft per station.
To install a workbench in your BOO first put it in your stash, it will then appear in your BOO inventory when you toggle view mode in your BOO.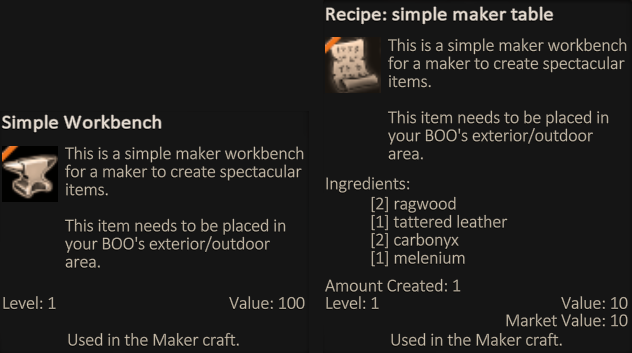 To craft Simple Workbench you need: Maker Level 1